Dog Friendly – After all, it's their holiday too!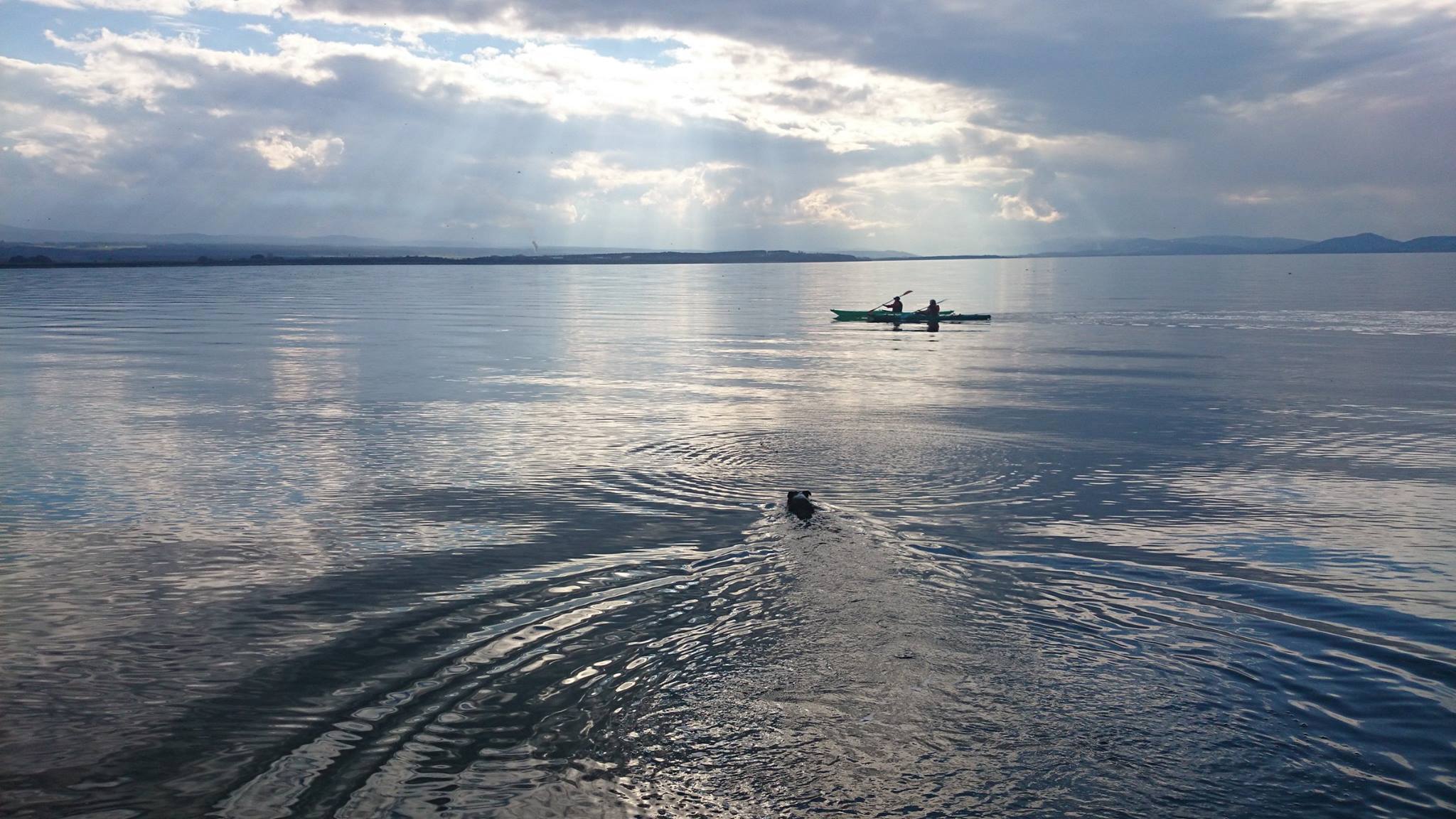 A collie enjoying a swim in Ardersier Bay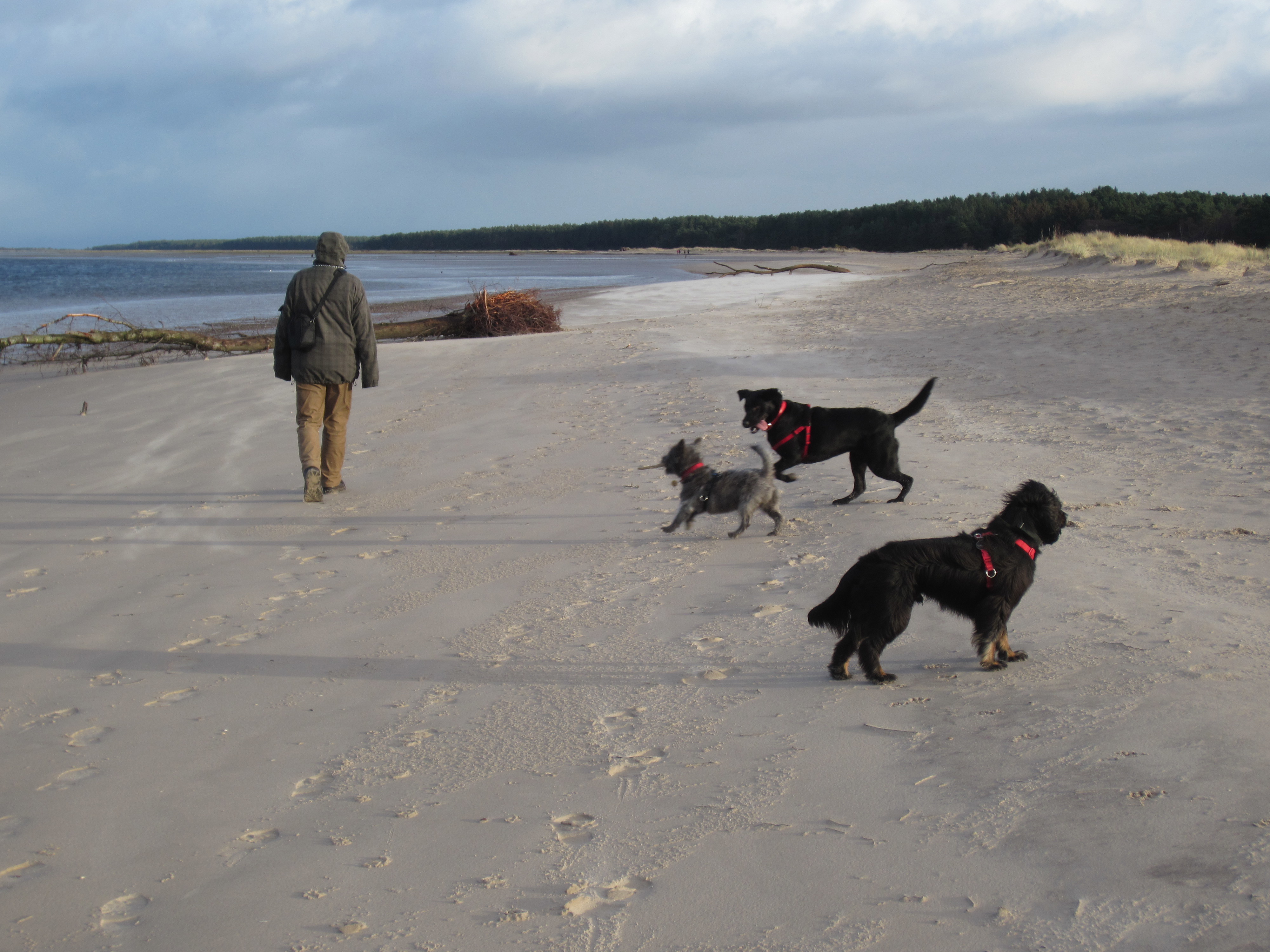 All beaches are dog-friendly all year round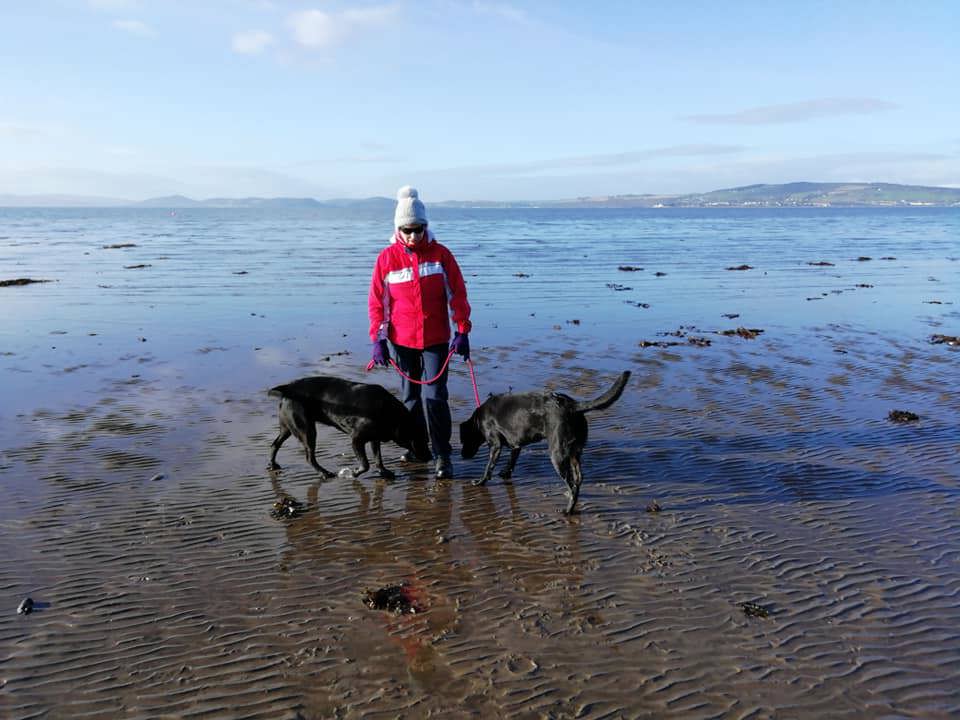 Bella & Tilly enjoying their early morning  winter walk in Ardersier Bay
We make a point of being dog friendly as dog owners ourselves we have discovered there is a world of difference between dogs allowed and dogs welcome. Here at Dolphin View Cottage we really believe in welcoming dogs for their dog-friendly holiday. We do not have restrictions on dog breeds but do ask in consideration to our neighbours that they are friendly, well behaved and will not be left alone in the cottage. We are flexible on numbers but please bear in mind the cottage is a one-bedroom cottage with a normal sized living room – You are not going to fit 4 Newfoundlands in there and be comfortable! (No prejudice against Newfies, we are just being practical).
We do not make an additional charge to bring your canine best friend(s), up to three dogs are welcomed free of charge.
I provide dog bowls, dog towels, a roll of poo bags, dog treats, a torch and dog toys – the toys are yours to take away. The back garden is enclosed by a high fence between 5 and 6 foot high, and the gate to the back garden is of the same height. Also provided for your use whilst staying are dog tags with my mobile number on just in case your own dog tags have your home telephone number on them. The front garden is also enclosed but the wall is lower (to enjoy those sea views). I also have hard plastic beds and a large dog cage that can be taken over to the cottage if you want to travel light and your dogs are used to these items.
It's good to know that in this part of Scotland, all beaches are dog-friendly, all year round.
Suggested walks and day excursions for dog owners - Note: All beaches in the area are dog-friendly, all year round.
Ardersier & immediate area
I recommend turning right from the cottage then following the shore path towards Fort George, this is a nice level path with poo bins for the first part of the walk. Once you get past the houses, you reach Ardersier Common, dogs can be let off the lead as you have the common on one side and the sea on the other, lots of rabbits here so very exciting scents for dogs! Ardersier Common is designated a National Nature Reserve and is especially good for butterflies and moths such as the Dingy Skipper, Grayling and Small Blue. At the end of the common you will reach Fort George. The cottage has a visitor pass that allows two people free entry, it's well worth a visit as the walk around the ramparts gives spectacular views up and down the Moray Firth. Built after the 1746 defeat at Culloden of Bonnie Prince Charlie, George II created the ultimate defence against further Jacobite unrest. Fort George is mightiest artillery fortification in Britain. Its garrison buildings, artillery defences bristling with cannon, and a superb collection of period arms provide a fascinating insight into 18th century military life. It is still an active military base but open to the public. Dogs are allowed in the grounds but not the buildings.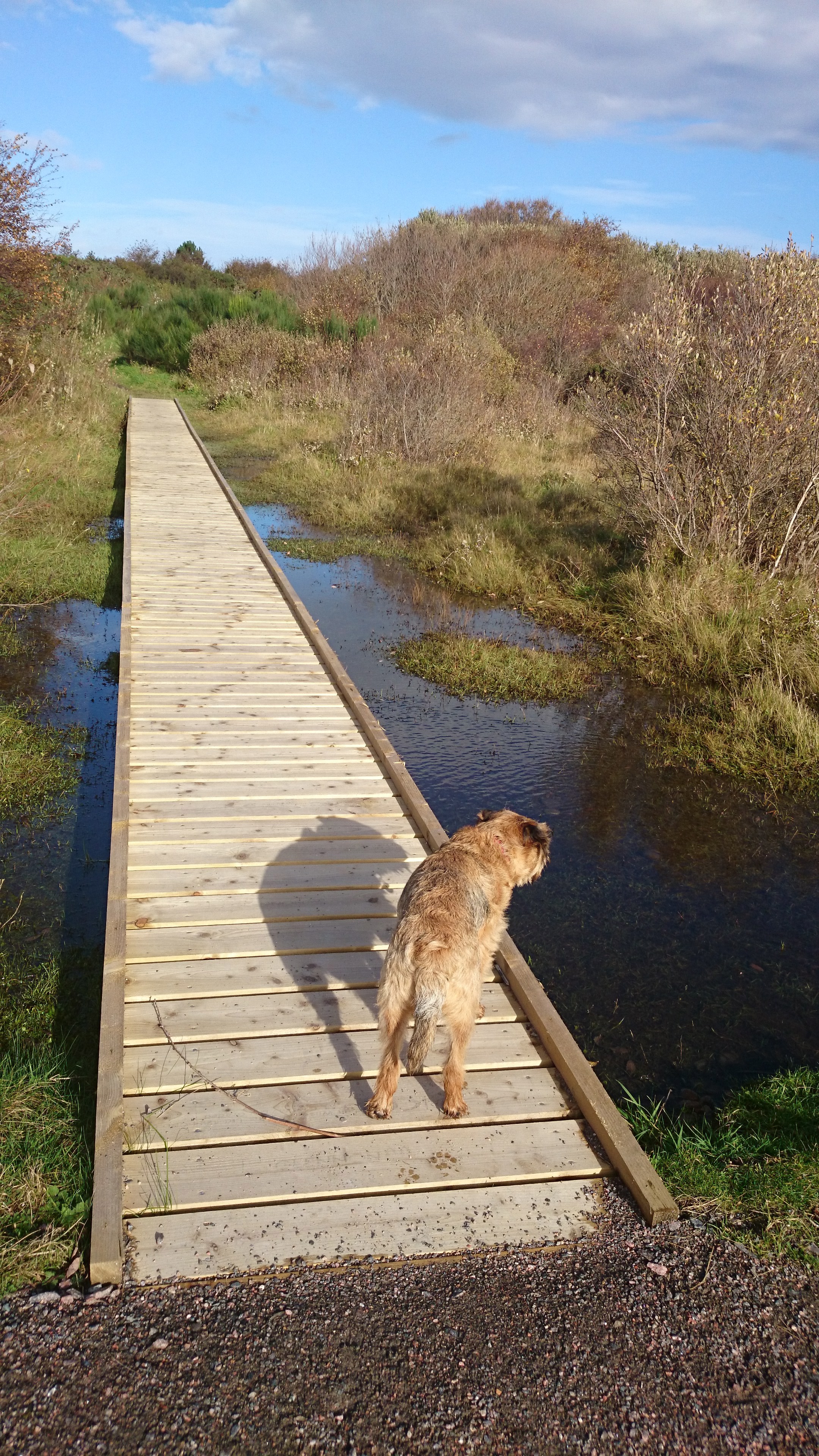 Ollie inspecting the boardwalk in Ardersier Common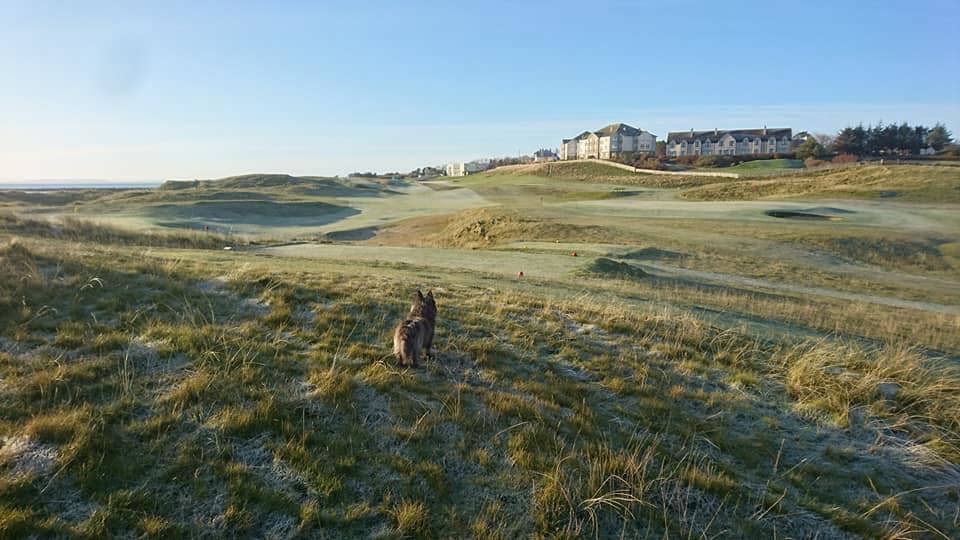 Golf course inspection, some courses allow dogs whilst owners are playing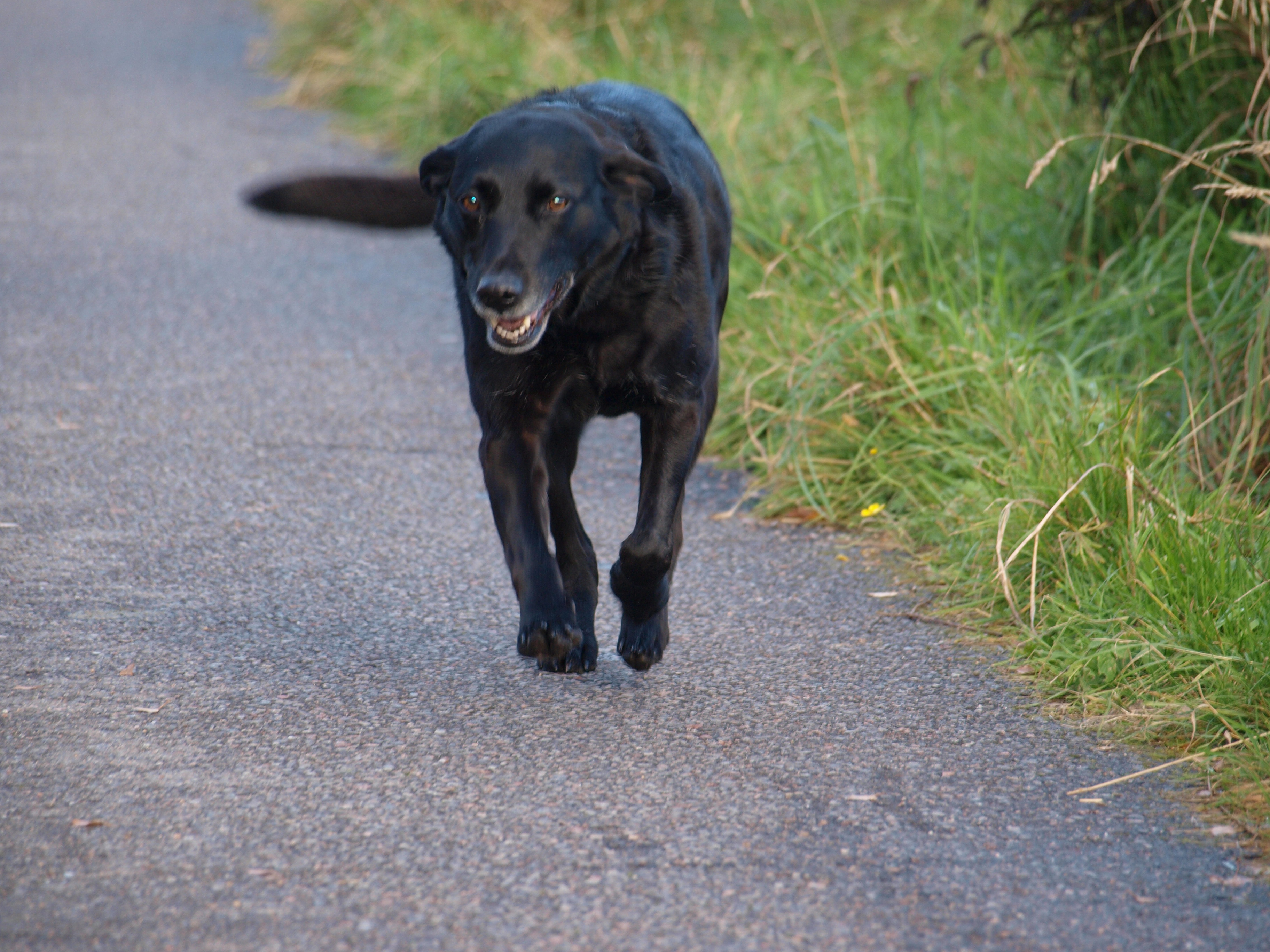 Bess enjoying quiet paths
Nairn (7 miles away)
East of Ardersier lies the Victorian seaside town of Nairn, a favorite holiday destination of Charlie Chaplin. The harbour here was built by Thomas Telford. Nairn has two beaches, the west beach has a prominade and you pass the bandstand and toilets. The East beach is a wonderful sandy beach with sand dunes and is backed by a forest so it has something for everyone. Jacko's bar & diner on Harbour Street is dog friendly and does really good soup – sometimes Cullen Skink. For birdwatchers, park at the Maggot near the harbour, walk up river on the East bank, there are numerous bridges so you can make this walk any length you want, then return down the west bank of the river, this walk gives you a good mixture of seabirds and freshwater birds including dippers.
Culbin Forest- near Nairn
Culbin Forest has lots of lovely walks and crested tits, red squirrels and deer can sometimes be seen here. There is also an elevated viewing platform on walk 99.
Brodie Castle (14 miles) is well worth a visit, especially in Spring when all the daffodils are in bloom. Lovely gardens and loch walk. http://www.nts.org.uk/Property/Brodie-Castle/ Dogs are allowed in grounds
Culloden Battlefield (9 miles away) the award winning visitor centre is a must. The site of the last pitched battle on British soil and the final defeat of Bonnie Prince Charlie on 16th April 1746. The excellent visitor centre and exhibition at Culloden battlefield is an essential destination for anyone with an interest in the Jacobite uprisings. Dogs are allowed on the battlefield on a lead but not inside the visitor centre. http://www.nts.org.uk/culloden/ There is a dog poo bin on the battlefield. Only a few miles away from Clava Cairns which is also well worth a visit.
Inverness – about 7 miles away
Nice walks round Ness Islands – a series of islands in the River Ness liked by suspension bridges, poo bins at regular intervals, you can sometimes see seals this far up the river, but usually dippers, mergansers, gulls, kingfishers. We have seen otters here too. Another walk is round the canal basin and to the Merkinch nature reserve.
Boat tours of Loch Ness
Visit the world famous Loch Ness- take a cruise with Jacobite Cruises – 5 star Scottish Tourist Board visitor attraction. There is a choice of 7 different tours ranging from 1 hour to 6.5 hours, www.jacobite.co.uk . Dogs are allowed on board.
Driving around Loch Ness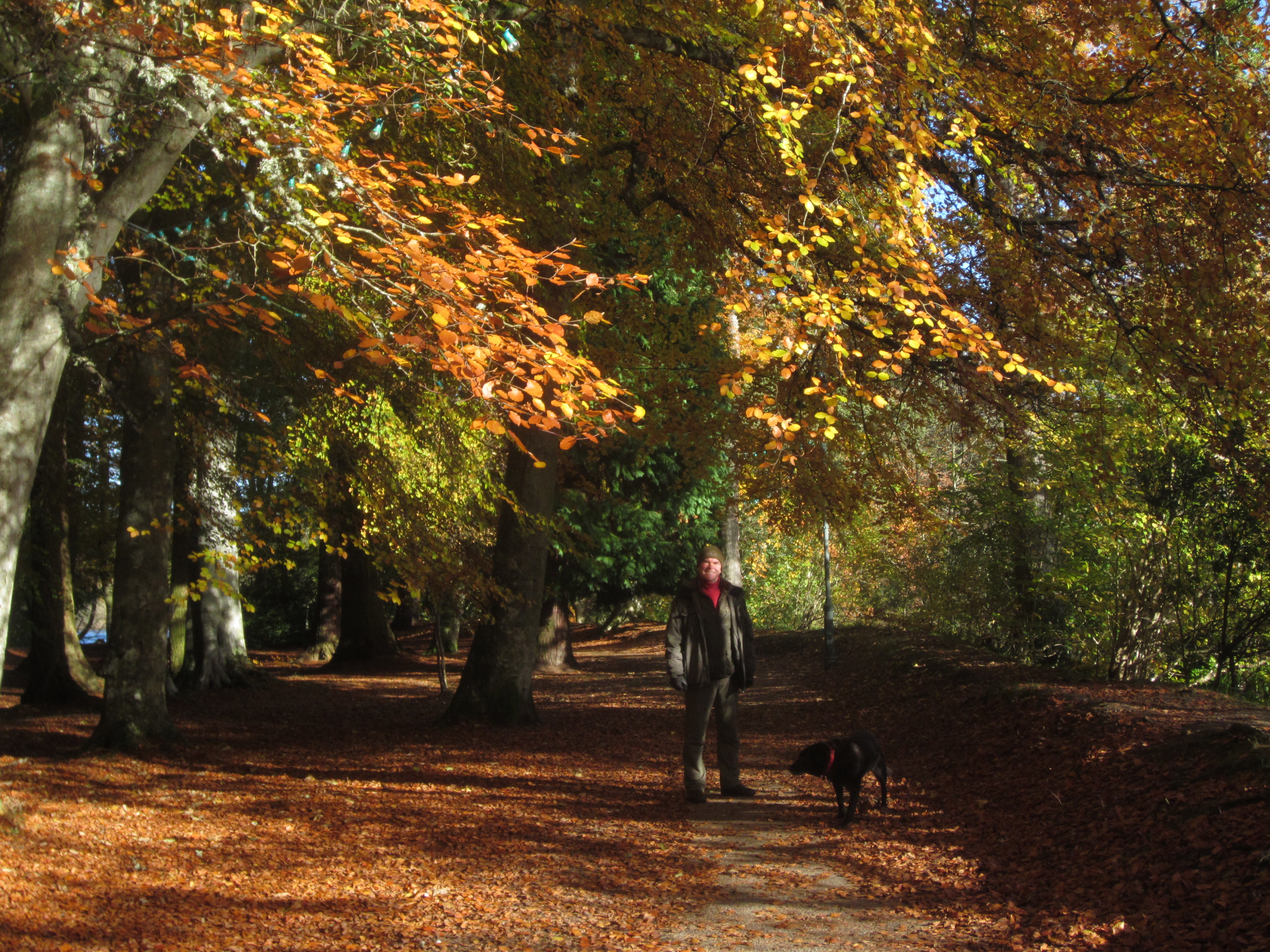 Ness Islands in Inverness is a lovely walk especially in Autumn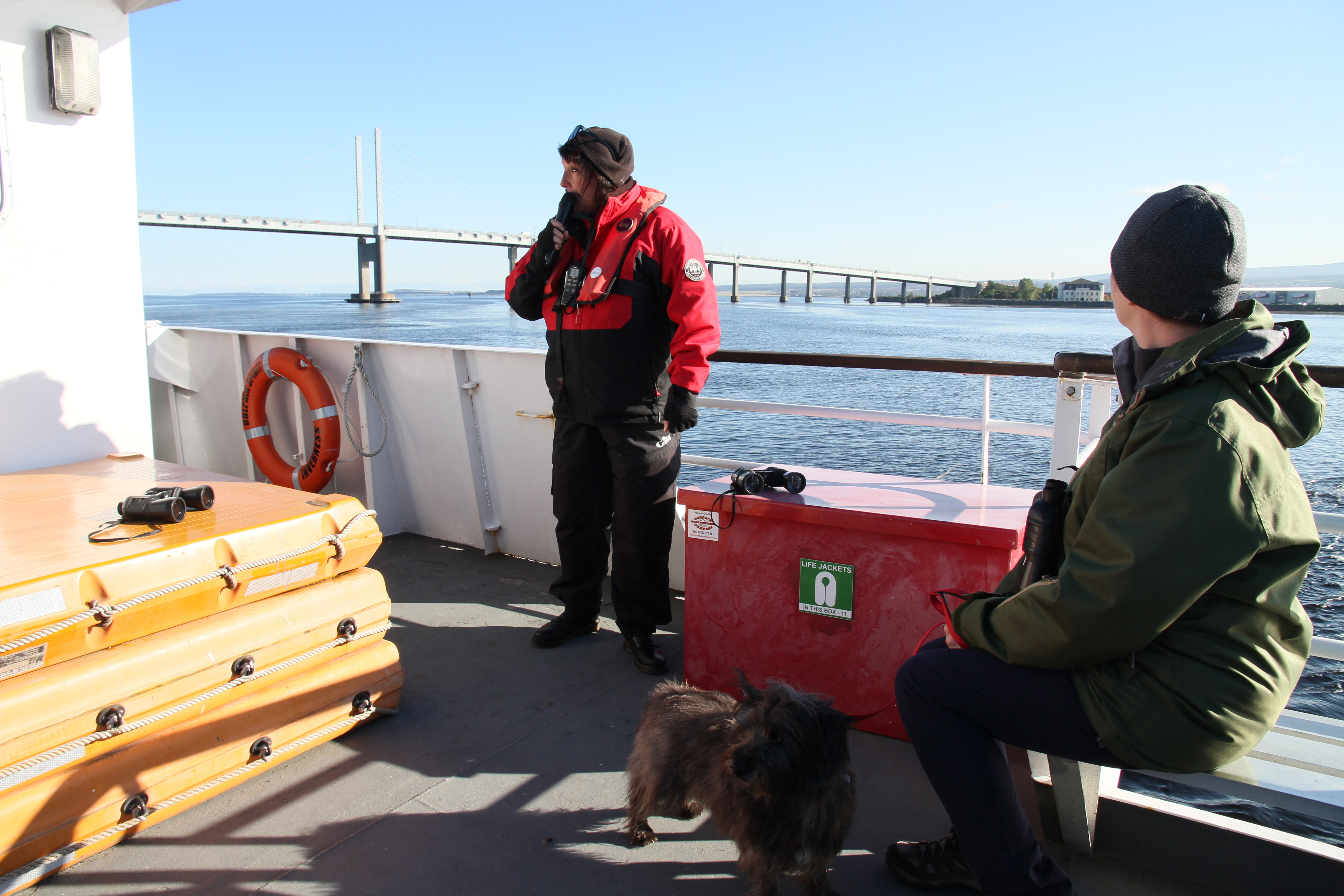 Dogs are welcome on Dolphin Sprite, a dolphin spotting boat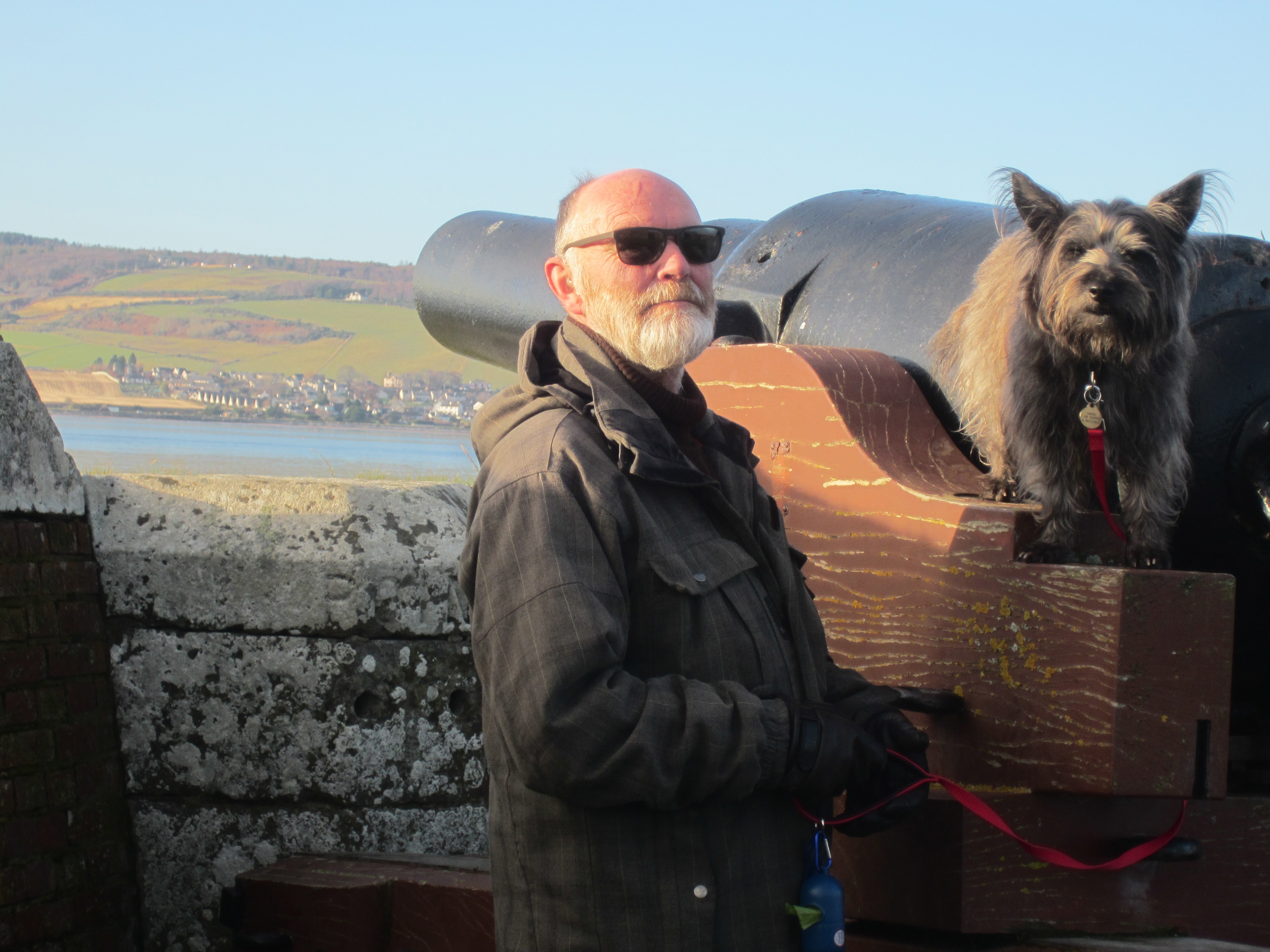 Dogs are welcome in the grounds at Fort George.  Hamish posing on a cannon
Leaving Inverness on the A82 after 9 miles you will come to Abriachan Garden Nursery, Loch Ness-Side, Inverness IV3 8LA – For plant lovers this is well worth a visit, the family run nursery allows you to take your dog on their woodland walk and in the garden nursery (Donation required). Your dog must be kept on a lead. These are uniquely beautiful woodland gardens by Loch Ness, with their fantastic mix of native and exotic plantings. The winding woodland paths edged by mossy stone walls lead up the hillside to stunning views over Loch Ness Their plant nursery sells a wide selection of hardy and unusual plants. They are known for their exceptional range of shrubs, perennials and alpines and their Auricula collection, which is one of the best in the country. Drumnadrochit is a lovely village with a pleasant village green and a dog-friendly, real ale bar at the Benleva Hotel. Onwards to Fort Augustus where the A82 crosses the Caledonian Canal via a swing bridge. It's interesting to stop and watch the boats going up and down the flight of five locks. Visit the Caledonian Canal Visitor Centre showcasing the history of Thomas Telford's Caledonian Canal – free admission. Dogs are not allowed in the centre but it's a small exhibition so one of you could wait outside while the other takes a look. The Bothy bar in Fort Augustus is dog friendly. Return either the way you came or ideally by the scenic south shore route, don't miss the spectacular 100ft waterfall of the Falls of Foyers – good area for red squirrels but a steep, deep gorge so keep dogs under close control. On the way back the Whitebridge Hotel and the Dores Inn are dog friendly. The Camerons Tea Room and Farm shop at Foyers and the Waterfall Cafe Foyers both welcome dogs in the cafe and tea room.
Black Isle
At Fortrose make sure you go to Chanonry Point for a close up view of the dolphins when the tide is right – an hour after low tide is usually good. The Anderson Hotel in Fortrose is dog friendly and serves good food and real ale as does the Allangrange Arms in Munlochy, both allow dogs in the bar area. Walks along Rosemarkie beach, The South Sutor at Cromarty and Fairy Glen in Rosemarkie are highlights on the Black Isle.
Glen Affric
Favourite photographers' excursion especially for the Autumn colours. Justly renowned for the glory of its woodlands, this classical blend of natural forest, shimmering loch and rugged hill has inspired many Victorian artists, and notably the 'Monarch of the Glen' painted by Landseer was set amidst this fine panorama. (there will be deer and sheep in Glen Affric but not likely along the paths).
Note: All beaches in the area are dog-friendly all year round
Dog-friendly places to eat, drink and shop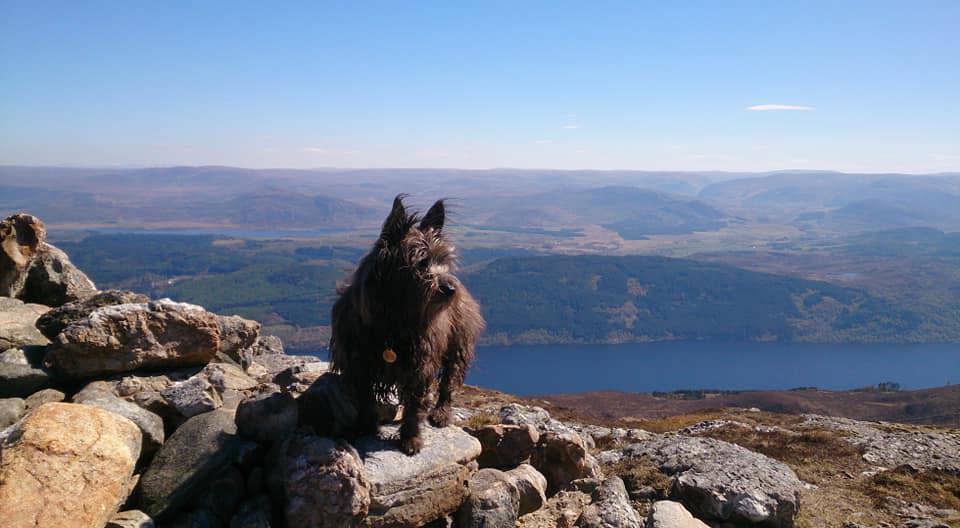 A Cairn on a cairn above Loch Ness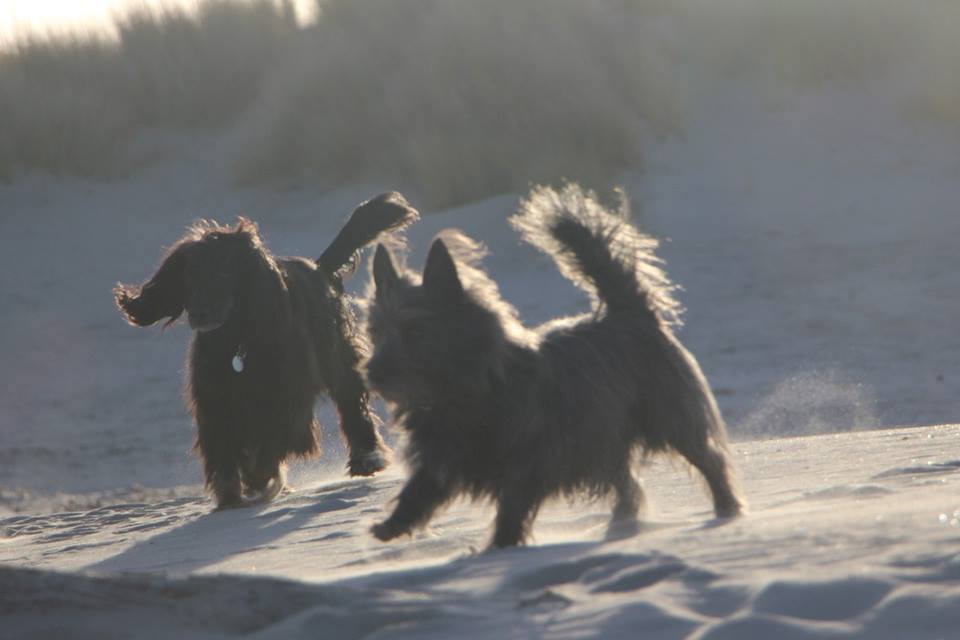 Nairn has a couple of long sandy beaches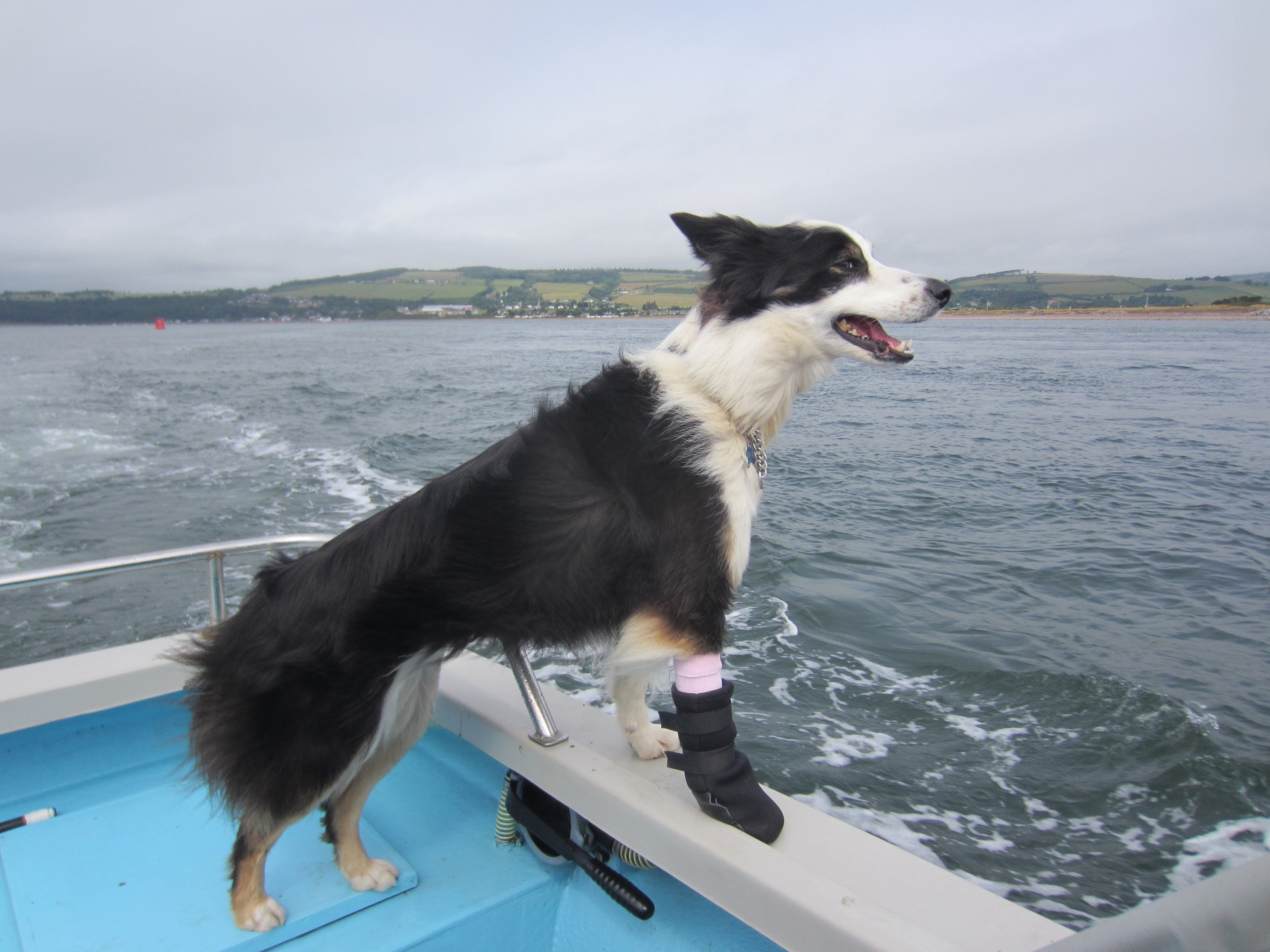 Dolphin spotting on a dolphin boat trip
These are by direction from Dolphin View Cottage.
East
The Abbey Inn, Findhorn Rd, Kinloss, Forres IV36 3TX gets great reviews for friendliness, good food and being pet friendly.
The Mosset Tavern, Gordon St, Forres, Morayshire IV36 1DY - has outdoor seating and ample parking and is located in the heart of Forres in the peaceful setting of the tranquil Rose Garden and the Mosset duck pond. a dog friendly public bar at the Tavern which serves food all day with a traditional bar menu and changing daily specials, usually have 4 real ale taps on too
Kimberley Inn, 94 Findhorn, Findhorn IV36 3YJ, for good, hearty pub grub. They serve wonderful seafood and great desserts. You are welcome to take your dog into the bar and they also have outside seating.
The Captain's Table Cafe, Findhorn Boat Yard, Findhorn, Forres, Morayshire IV36 3YE offers a wide range of meals and snacks served throughout the day, now open from 9am - 9pm. Looking for a latte and a cosy corner then look no further! Pet friendly.
The Cawdor Tavern, Cawdor, by Nairn allows dogs in the bar and in the outside patio area.
Dog-friendly places in Nairn include Jacko's bar diner Restaurant, 44, Harbour Street, IV12 4NU.
Havelock House Hotel, Crescent Road, IV12 4NV,
Café Nairn IV12 4PH,
Café One Two IV12 4DE,
Uncle Bob's Bar 1 High Street, Nairn.
The Sundancer on the seafront allows dogs in their downstairs Cafe. IV12 4PH.
North
The Old North Inn, Kirkhill, Inverness, Inverness-shire IV5 7PX sits in the small village of Inchmore on the A862 just 7 miles from Inverness. Your dog is welcome in the bar area. A handy stop for lunch after a walk around Reelig wood.
Please note however that children are not allowed in the bar.
Coul House Hotel, Contin, Strathpeffer, Ross-shire IV14 9ES. Once in Contin, the entrance to the hotel driveway is the third right (approximately 200 yards) after the petrol station. The hotel is located up the hill at the end of the half-mile gravel driveway and is adjacent to miles of walks in Torrachility forest to waterfalls with trails marked out. Well behaved dogs are allowed in the bar and lounges but not in main dining room. The afternoon tea is an experience not to be missed.
The Cottage Bar, Hood Street, Maryburgh, Ross-Shire IV7 8EB welcome dogs in the bar where they also serve food and in the beer garden where if you prefer, they have outdoor seating.
Robertsons Farm Shop Beauly, farm shop, specialist food shop, gift shop.
South
The Red Squirrel Cafe and Pine Marten Bar at Glenmore. Also the bar at Glenmore Lodge.
The Old Bridge Inn Aviemore.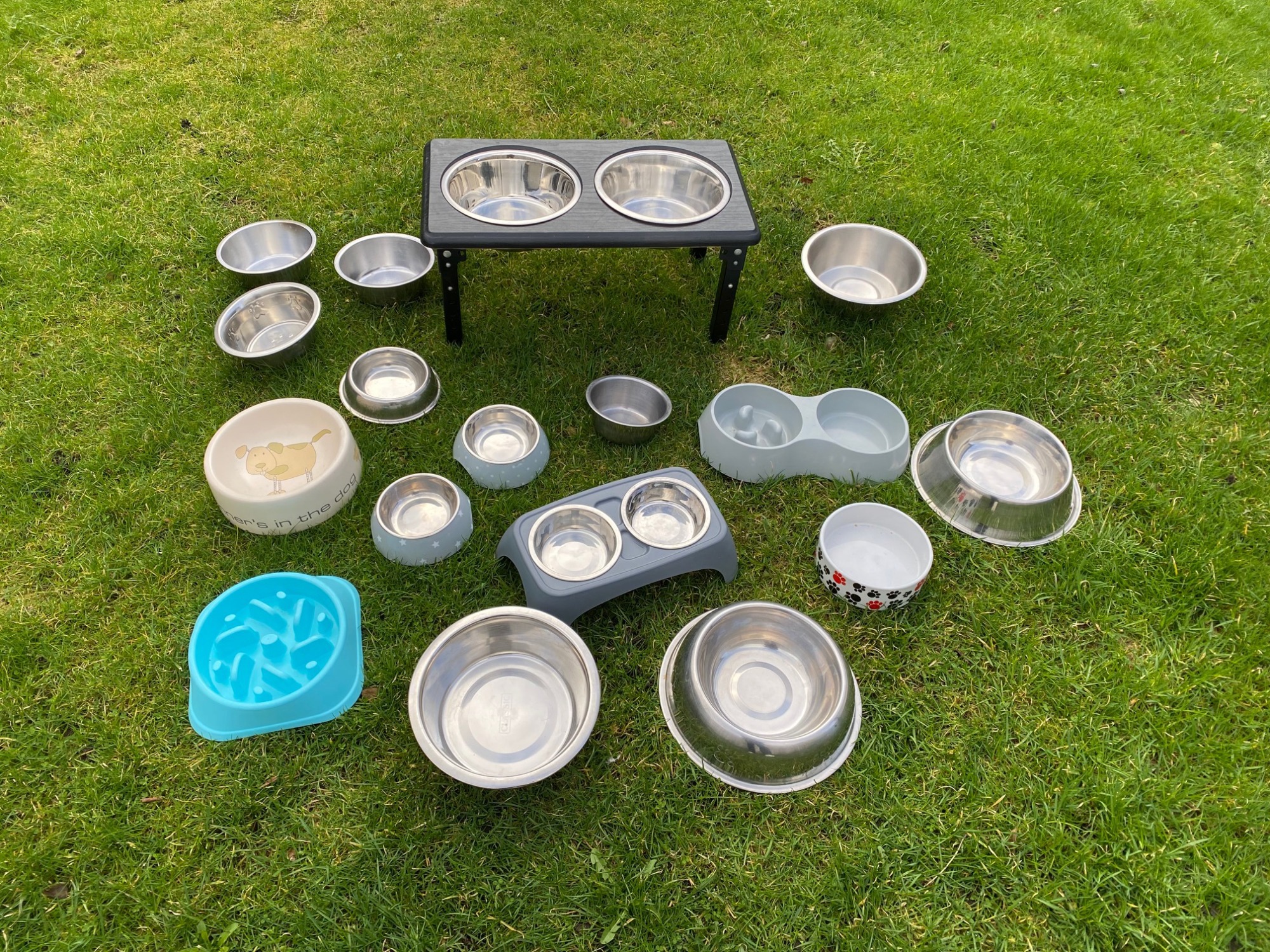 We have bowls for every type and size of dog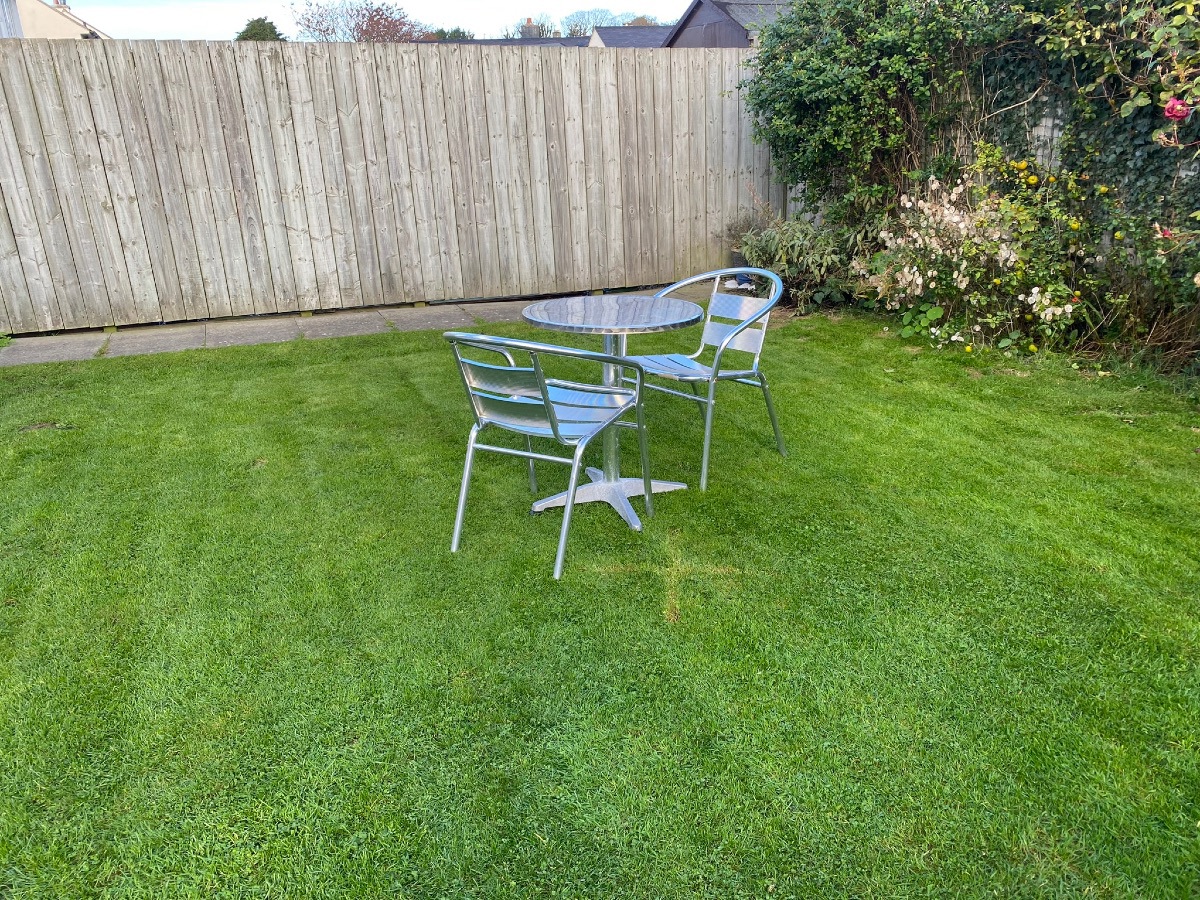 A view of the back garden showing the high wooden fence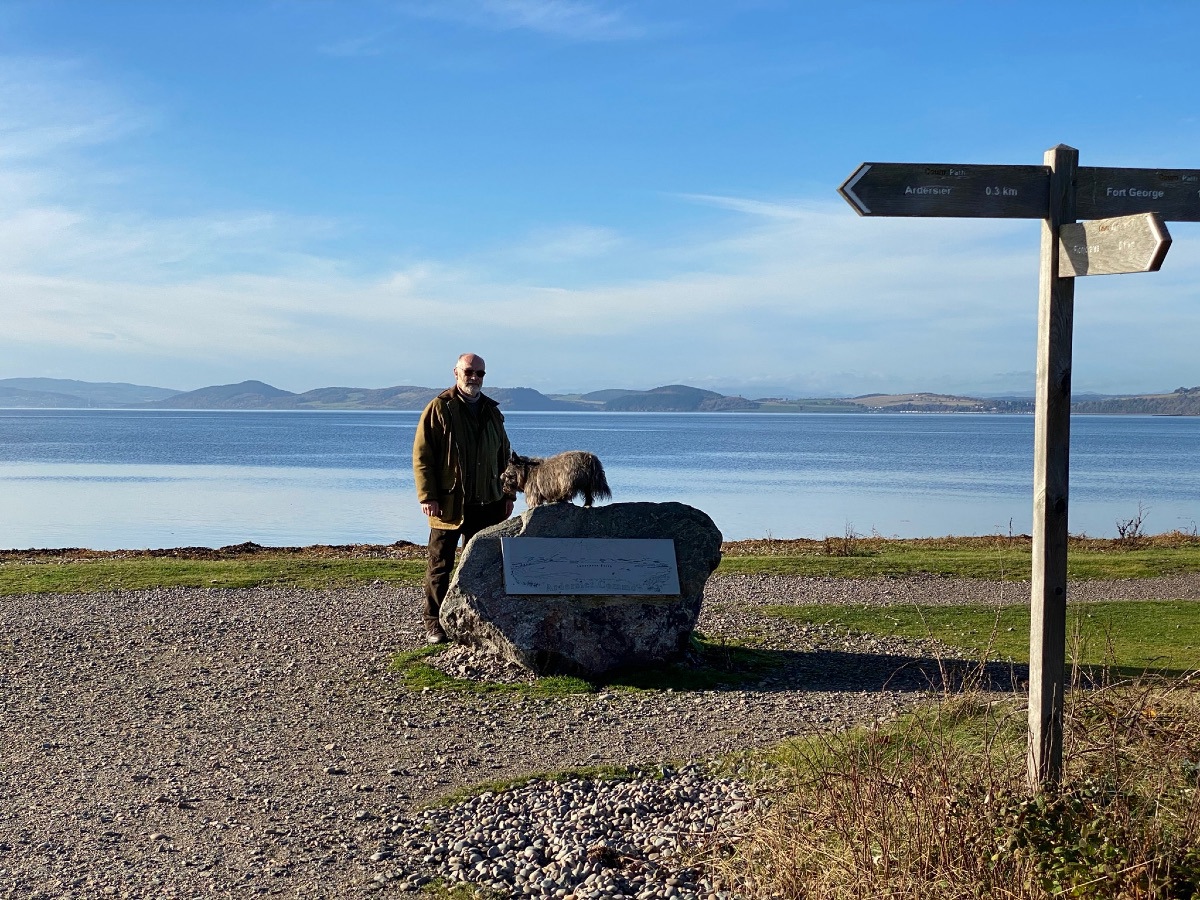 The shore path to Fort George has great views over the Moray Firth
Around Loch Ness
Whitebridge Hotel, Whitebridge, Stratherrick, Nr. Inverness IV2 6UN is a long established Highland Hotel amid the foothills of the Monadhliath Mountains, approximately 3 miles from Loch Ness. The area abounds with wildlife and is a haven for bird-watchers and naturalists alike. Meals are served in the Main Bar and Wee Bar every day from 12 until 2pm, and from 6pm until 8.30pm and the proprietors welcome your well-behaved dogs. Real Ale.
The Waterfall Cafe, Foyers, Inverness IV2 6XU is open daily and offer a Breakfast and Lunch menu. They also offer a wide selection of hot and cold drinks and all menu items (and drinks) are available to take away during opening hours. You are welcome to bring your dog with you into the cafe. There is also a large outdoor decking area in front of the cafe for customers to sit and enjoy the pure air of the Highlands and possibly spot a Red Squirrel in the wooded area opposite. (Note: the cafe closes at 3pm on a Sunday)
The Dores Inn, real ale and good food.
The Camerons Tea Room and Farm Shop, Foyers, South Side Loch Ness, Inverness IV2 6YA are dog friendly - open 7 days a week. (It is only a quarter of a mile from the famous Falls of Foyers waterfall. Look out for the sign to Camerons Holiday Cottage and the highland cattle in the fields.) The Farm Shop offers fresh seasonal produce as well as local crafts, cards and gifts. Paintings and prints on the walls by local artists are for sale.
Benleva Hotel Drumnadrochit, brew pub with food. dogs allowed in bar
Black Isle
The Allangrange Arms, Millbank Road, Munlochy, Ross-Shire IV8 8NL, 3 miles off A9 on B9161, just in Munlochy Village. Open for coffee & breakfast (eat-in /takeaway) from 7 to 11, with food normally available, throughout the day until 9pm sometimes later. The menu has a good selection of quality food including Vegetarian options. Well behaved dogs are welcome inside, but should be kept to the bar - a max of 4 dogs at any one time.
The Anderson Hotel Fortrose, dog-friendly, real ale and food.
Beach Café Rosemarkie beach. Only allows dogs at outside tables.
Culbokie Inn is dog friendly
Cromarty Arms
The Plough Inn, Rosemarkie
Bad Girls bakery Muir of Ord
West
Cluanie Inn
Argyll Hotel Ullapool
Ferry Boat Inn, Ullapool
The Old Inn Gairloch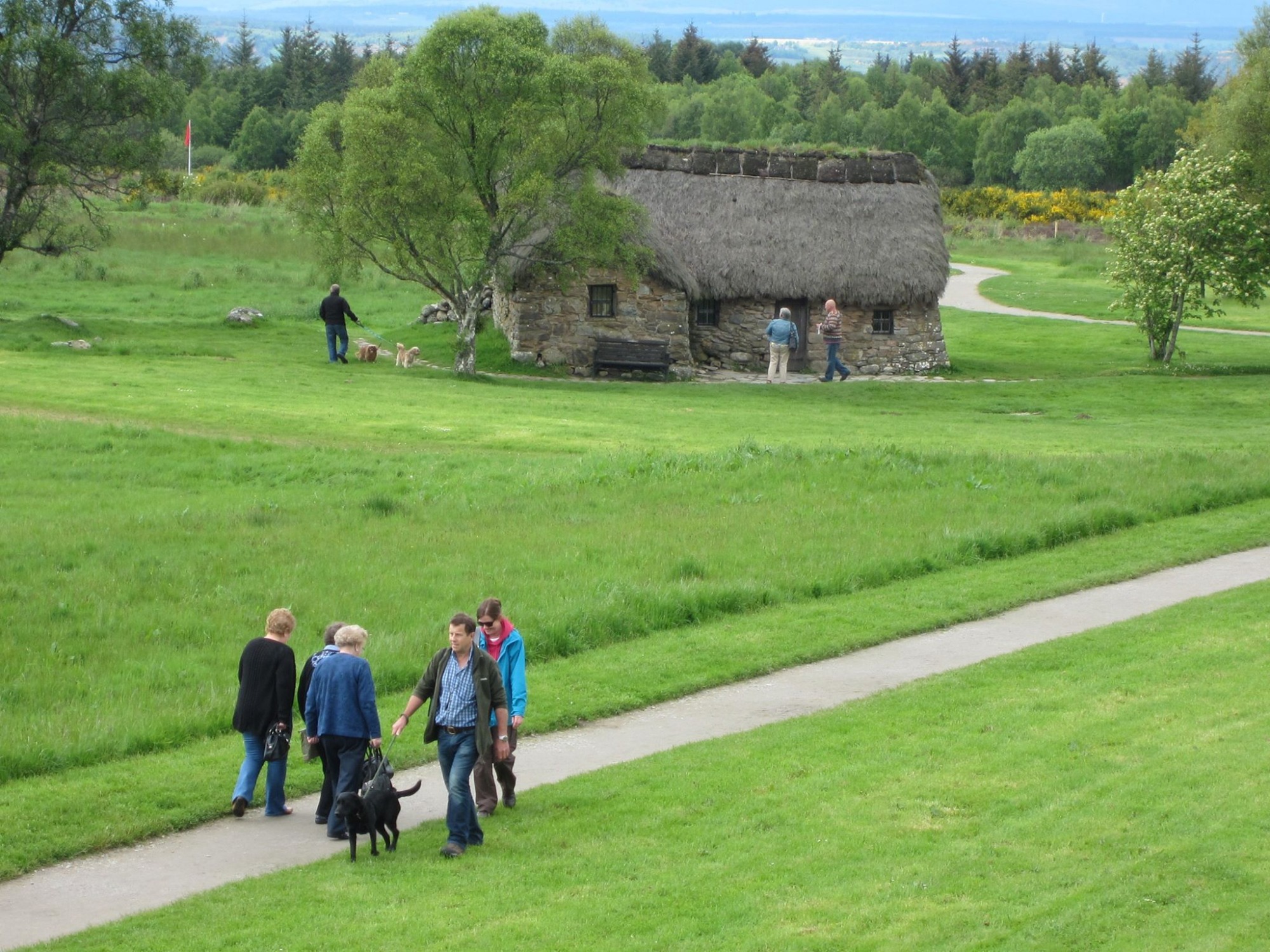 The Highlands of Scotland is dog-friendly.  This is Culloden Battlefield and Leanach Cottage,.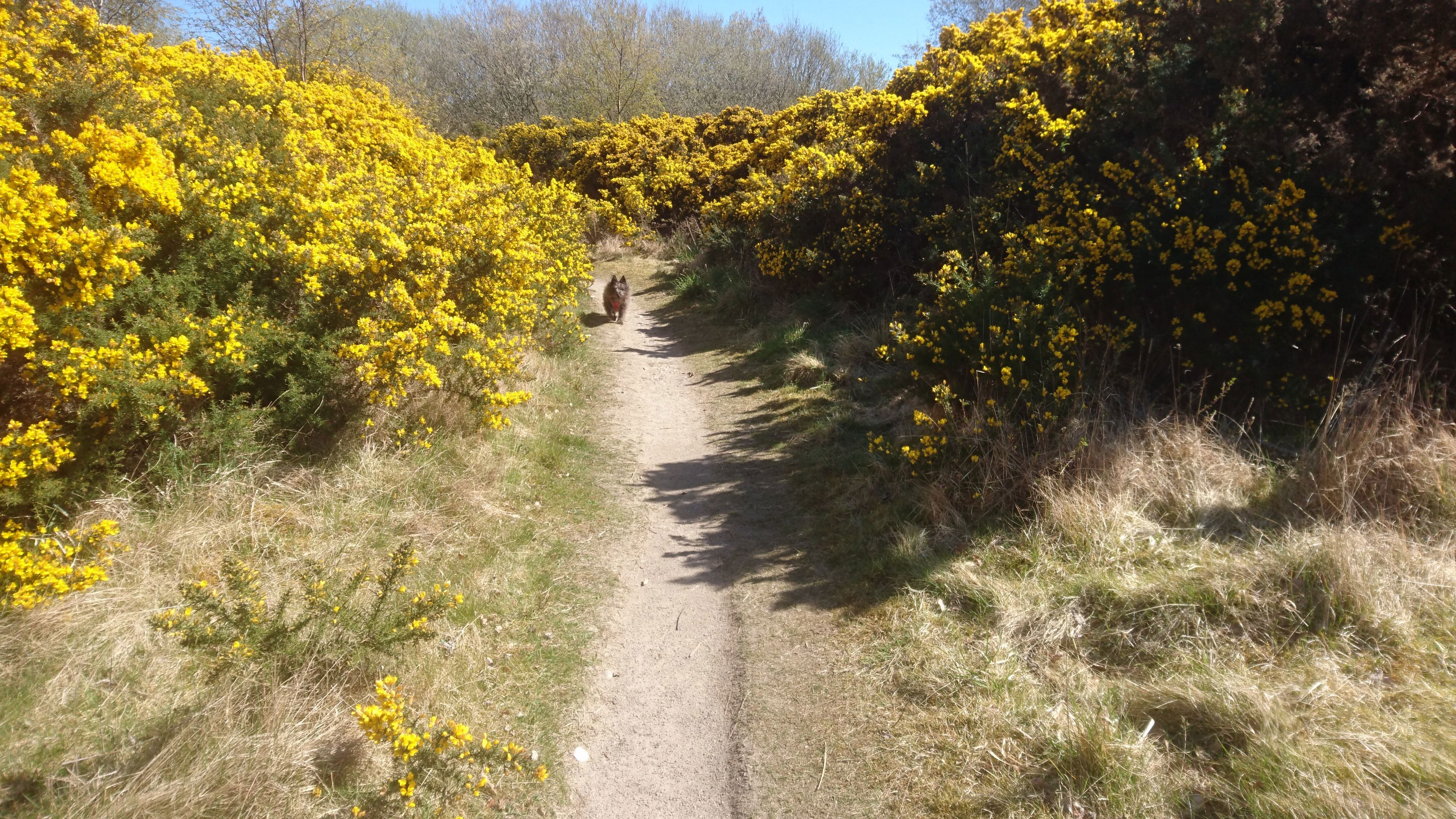 Ardersier common is a lovely walk from the cottage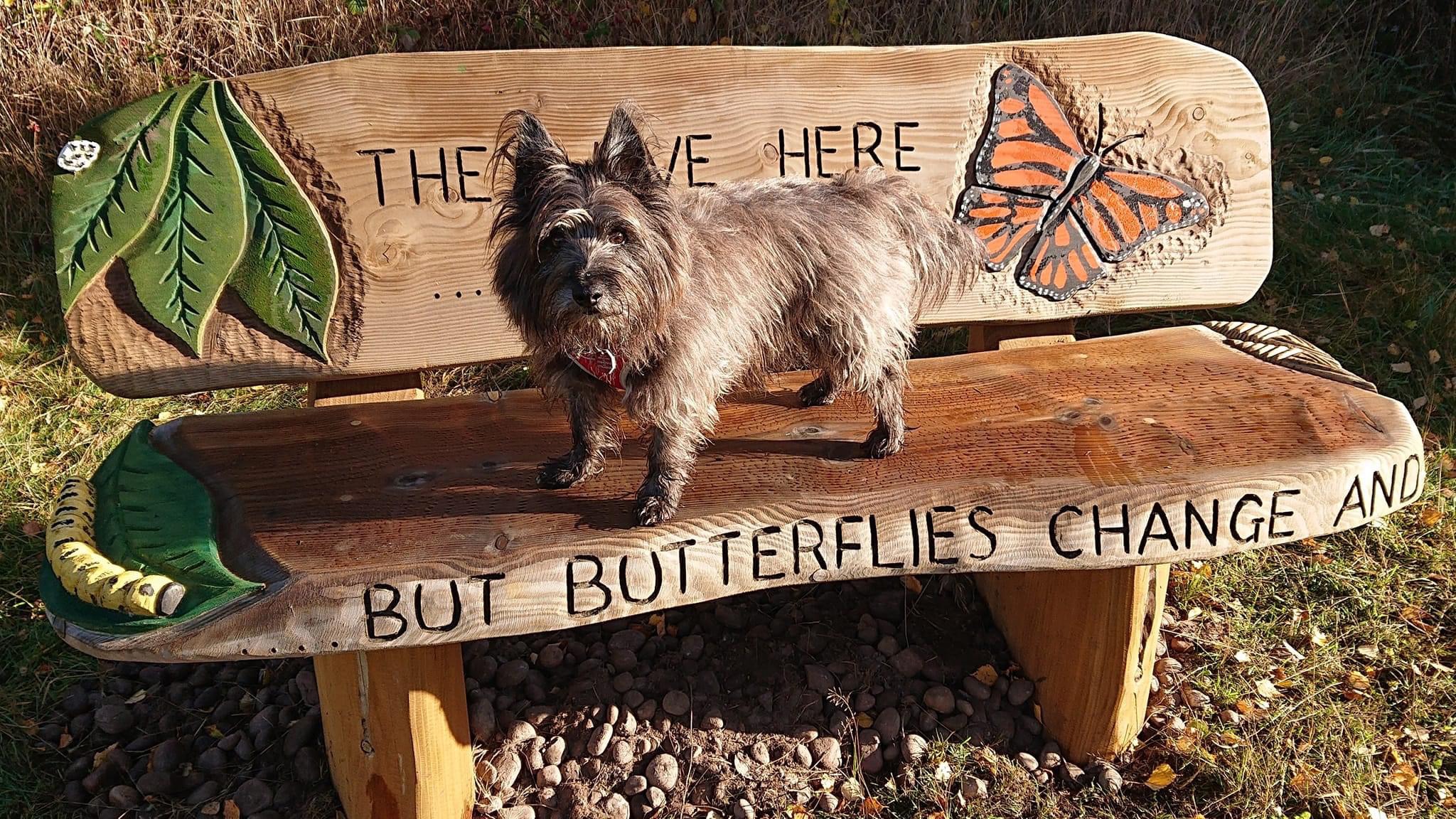 A bench in Ardersier Common
Inverness.
The Cathedral Cafe, St Andrews Cathedral, 11 Ardross St, Inverness, IV3 5NS The café is dog friendly. There is a designated dog-friendly table adjacent to the door. In the summer there may be seating outside but this will depend on the weather. It is open Monday to Friday from May to September and is a place where visitors and locals alike can enjoy home baking, freshly made tea, coffee and sandwiches and especially a bowl of piping hot home-made soup. There is where you will also find the Cathedral Shop.
The Gellions Bar, 14-17 Bridge Street, Inverness, IV1 1HD is the oldest pub in our highland capital and allow dogs into Montys, that's a wee snug through the back, and in the courtyard.
Jammy Piece, 91b Telford Street, near canalside Crown Vets, coffee & cake.
Jacobite Cruises Ltd offer Loch Ness and Urquhart Castle Cruises. Dogs are welcome onboard the Reflection, Contemplation, Enchantment and Inspiration tours.
The Blackfriars Bar
Scotch & Rye, Queensgate, Inverness.
The Snow Goose Pub, A96 Stoneyfield (near the big Tesco).
The Crown Court Hotel, Southside Road, Inverness welcome your well-behaved dog in the bar area and are soon to open an outside area.
The Clachnaharry, Inverness is an award-winning 'dog-friendly' pub and proudly displays 'dugs welcome' sticker on their website. Real ale, food, coffee and snacks.
Cafe Nero, 54-56 High Street, Inverness IV1 1JE are happy for you to take your well behaved dog into the cafe.
Scotch & Rye Bar Diner, 21 Queensgate, Inverness. Food, cocktails, wine.
Black Isle Bar, 68, Church Street, Inverness, draft beer with wood-fired pizza oven.
The Royal Highland Hotel and the Fluke Inn are also dog friendly
Other dog-friendly places are Go-Outdoors, Glendoe Terrace, Mountain Warehouse, 41, High Street, Dobbies, Garden Centre, Inshes Retail Park, Inverness. Tiso Outdoor mountain shop, 2 Henderson Road.